In the past six months I've totally changed my everyday beauty routine, and one of my favorite brands, bar none, is Beautycounter. The first product I fell in love with is their Lip Gloss, which as an 80's baby who grew up in the 90's, is simply a product I am unwilling to live without in my routine! There's something seriously simple and gratifying about glosses, however, it's really difficult to find a lip gloss that does it all from glossing, providing some color, and keeping my lips feeling hydrated. I felt like I was always choosing one feature, or the formula had ingredients I just wasn't comfortable with. Enter: Beautycounter's gorgeous glosses. I'm a big fan of Dahlia which has become my go-to!
The glosses prompted me to give their other products a shot, from their Tint Skin Hydrating Foundation to the Touchup Concealer Pen, two products that I LOVE using every day and do so in concert with each other. You can absolutely use your fingers to apply both, but lately I've been using a brush and really enjoy the experience and the blend-ability of both products.
Since falling in love with the products and using them in my daily routine for a good 5-6 months, I knew that partnering with the brand to share my favorites was a great opportunity. I hope you enjoy all of the details below!
Meet the #FlawlessInFive Set!
Beautycounter's mission is to get safer products into the hands of everyone, and their motto is "formulate, advocate & educate," while they focus on creating products that truly perform. The brand believes that beauty should be good for you, and as you know – I'm all for that. It is especially challenging to find color cosmetics with better ingredients, so I know that my clearer skin has definitely benefited from their ingredients (or lack thereof!).
One of my favorite ways to feel beautiful and prepared for the day is to focus on my brows. Beautycounter's brow products are seriously lovely, and I'm a fan of the Brilliant Brow Gel, which helps keep my, ah, rather voluminous brows in check 😉
Tint Skin Hydrating Foundation – I use shade Linen
Touchup Skin Concealer Pen – I use shade Fairwhich is a bit brighter than Linen, but I love adding some luminosity with it. Obsessed.
Satin Powder Blush – I use shade Melon
Lip Gloss – My favorites are Dahlia (a cool pink) and Peony (a warm pink)
Brilliant Brow Gel (I use Medium) or Color Define Brow Pencil (I use Dark)
About Beautycounter's Flawless in Five set: The Flawless in Five makeup set includes everything you need to create an effortless look in 6 simple steps. It includes six safer, high-performing products for effortless beauty in five minutes.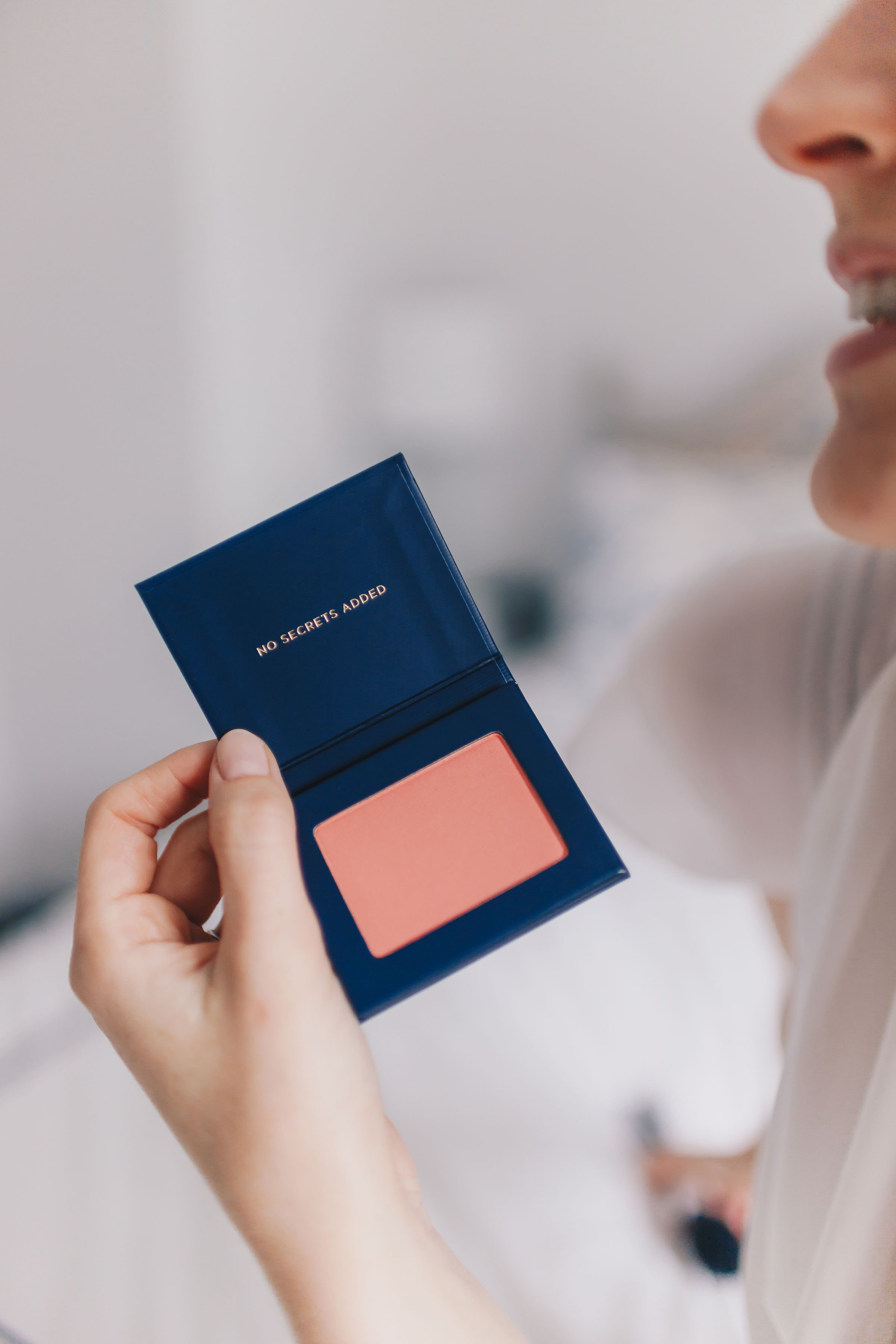 Check out more and select your shades here.
Also as we head into warm summer months full of weekend getaways, weddings, and all around outdoor bliss, consider this my loving reminder to prioritize SPF. I have experienced two pre-cancerous spots and come from a family with a history of skin cancer on both my mother and father's side, so it's something I am very serious about.
I used to use an aerosol spray from another drugstore brand that always kept me feeling safe from the sun…but smelling like some serious chemicals. I'm really happy to be able to turn to Beautycounter for sun protection now, too! I was even able to take it for a test-run during my very sunny Columbia Commencement yesterday!
Beautycounter is currently running a Memorial Day promo for their SPF, too! When you spend Spend $125+ you'll receive a free Countersun 3 oz. Mist (TSA-compliant!) + Countersun 1 oz. Lotion bundle.
Wishing you the best summer – and a beautiful one, at that.
Photography by Shelly Xu. This post was created in partnership with Beautycounter; all opinions are proudly my own.