Photographed by Erin Kestenbaum
I moved uptown to the charming East 60's last spring after living in Tribeca for five years. I decided to trade a glass high-rise for a quiet townhouse, and I've never been so at home in a New York apartment. Take a step inside #MyTinyPinkBathroom to see how I brought it to life!The switch coincided with a few big life changes: I was applying to business school, and I moved Plan de Ville out of our showroom office and into a distribution center to help scale our customer service. Those changes meant I'd be working from home (at least temporarily – update, a year later, I still work from home and I love it!), learning how to collaborate remotely with our team, and moving into a totally different type of personal space.
I found the new apartment online, which mean no broker (yay!) and I was able to close the negotiation on my own in 48 hours. Have I mentioned that I'm very decisive? 🙂 I was so excited for this shift, but there was only one problem…
THE BATHROOM.
My bathroom in Tribeca was gorgeous. This one, not so much. The building was built in 1910, and clearly the bathroom was not only dated, but it wasn't a feature that the landlord prioritized at all. Knowing I'd be in this rental only a couple of years (most likely) I told myself that a bathroom wasn't a terrible sacrifice to gain the beautiful soaring living room windows, a fireplace (I know!) and a cute little terrace off the back of the apartment.
Before (images via the landlord, apologies!):

Sad. So sad. Dinged surfaces, dingy tile, a teeny medicine cabinet. A tiny (definitely not ADA-compliant) shower entrance. I decided to focus on small upgrades first, and debated for a few months about what to do with the walls. I thought about going wild with a removable wallpaper, since small spaces are a great opportunity to really make a statement, but I ended up deciding on a soft pale pink for the walls (paint color: Hint of Pink by Benjamin Moore).
The first upgrade I made was to replace all of the white plastic electrical covers with brass ones from Amazon. I did this throughout the entire apartment. Just go through each room and make a tally of the types of electrical fixtures you have, then order accordingly. All you need is a flat screwdriver!
My second upgrade was to cover the surfaces with the most genius apartment upgrade: marble contact paper.
I saw this tip on Pinterest and knew I wanted to give it a try. It requires some patience, especially on uneven surfaces like I had here. However, it immediately gave the bathroom a MUCH fresher appearance. You'll need an X-Acto knife and something with a flat edge to push out air bubbles when you apply the contact paper.
I also immediately added a mirror from West Elm which was previously in my bedroom downtown. It opened up the bathroom the minute it was hung on the wall opposite the entrance.
I also added a really beautiful (but a totally affordable $35!) brass towel rail. I couldn't believe how much it elevated the space.
The bathroom didn't have much in the way of storage, and I found it difficult to deal with towels in such a little space. So, I tried to take stock of which wall areas were slightly out of the way, and I realized that the ideal spot to install some floating shelves was above the (brace yourself) exposed toilet to both offer storage, and to distract from that slight eyesore. Plus, by choosing this particular wall I knew the shelves wouldn't be in the walking space of the bathroom but tucked just out of reach of anyone walking in and out.
When scaling down in a space, proportions are everything. My giant fluffy bath towels were replaced with smaller, equally lovely ones, that roll perfectly to fit on the floating shelves. These shelves were from the Container Store, and I painted them the exact wall color to add a "built-in" look. I think that idea really elevates the appearance of the entire bathroom because it reads as more finished.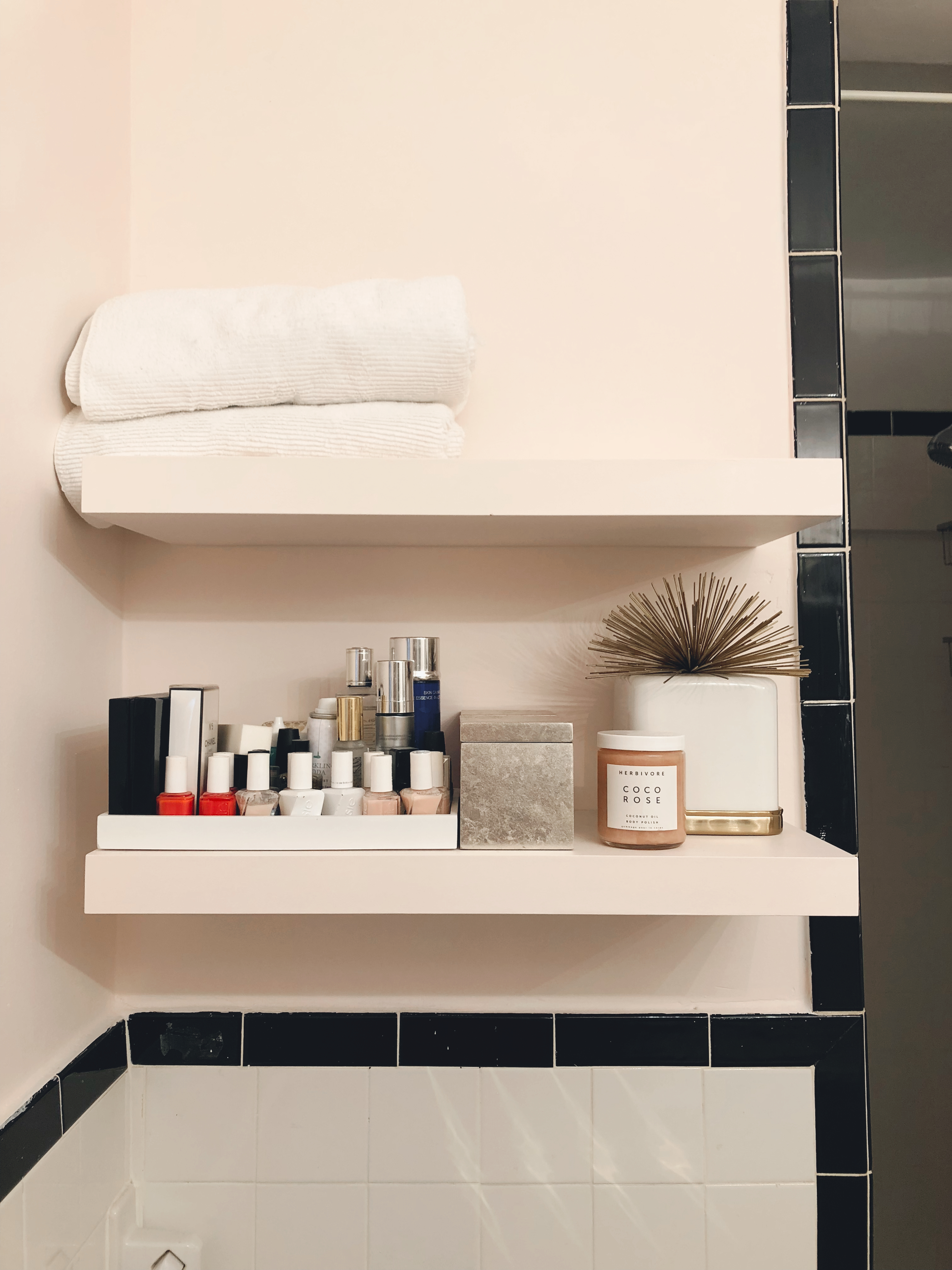 Here's my adorable tissue box cover!
The trick to floating shelves is to keep them minimal, yet functional. I store my fragrances and nail polishes here, and limit the top shelf to towels only.
Now, perhaps the strangest part of this bathroom is the tiny entrance to the shower. Look at it! It's no more than perhaps 30″ wide. But behind it is a huge tub and a wide ledge where I organize my shower essentials. I found this shower curtain at Target and actually cut it in half vertically so the fabric didn't overwhelm the space and it can be supported with a simple spring rod.

The best part of the bathroom? The diva lights that now shine brightly above the medicine cabinet! I hope you enjoyed seeing inside this lovely little beauty nook (affectionately known as #MyTinyPinkBathroom on my insta), and I'll share another apartment decor post soon!
XO, Catherine