London is one of my favorite cities in the world, from the posh architecture to the ladylike style, I can't get enough of the iconic city. One of the best things about London has undoubtedly been visiting my sister Mary there over the past several years while she's been living as an expat student at the London School of Economics. From royal history to the royal borough, I consulted with my very own British expert to put together a travel guide of some of our favorite places that we love to frequent. Enjoy Mary's take on her adopted hometown, paired with a few of my favorites, too.
Best Blow Dry in London: Duck & Dry
MARY: "Ah, the trusty blow dry. Living in London with curly hair that's Keri Russell in Felicity meets an Irish dancer's wig is a challenge to say the least. My go-to is Duck & Dry on the King's Road when I can't be bothered to tame my hair myself (which is often – its my only vice!). With three locations and its own line of products, Duck & Dry is leading the growing London blow dry bar scene with its excellent stylists and their ability to keep you from looking like a disheveled poodle. You are washed and fluffed and out their door in thirty minutes flat."
Image via Duck & Dry | @duckanddry
Where to dine to feel like a local: The Ivy Chelsea Garden
CATHERINE: There are a few restaurants that have always felt like home to me. The Odeon in New York City is one, and The Ivy Chelsea Garden is another. The Ivy Chelsea Garden is large enough that one can always get a table (but of course book ahead) and, like the Odeon, delightful enough that it is always charmingly full. The fare is delicious, the prices beyond reasonable, and the people-watching is always spectacular. Book around 7:30 pm or so – London winds down on the early side. Order my favorite cocktail, the Kings Road Cobbler for me!
Photos via The Ivy Chelsea Garden
Prettiest Breakfast: Our Favorite Brunches in Notting Hill
MARY: "If you find yourself in the immediate need to Instagram your breakfast, look no further. Similar to blow dry bars, brunch has been steadily growing in popularity in London. If your feed is severely lacking in avo toast, head to Aussie – and by default – brunch (and pastel-hued) capital Notting Hill. Our two favorites are Granger & Co and Farm Girl Cafe."
Image via Granger & Co | @@grangerandco
Our Foodie Favorite in Chelsea: Chicama
MARY: "Chicama is a cozy neighborhood gem. Tucked just off the King's Road and sporting a beautiful terrace, this sister restaurant to Marylebone stalwart Pachamama serves Peruvian small plates surrounded by plenty of millennial pink. Must orders include the grilled cauliflower, tuna tostada, and Piura Porcelana dessert. Sit at the pink marble bar with a glass of their delicious South American wines and watch the chefs at work! Obsessed with their Bach wine glasses on our first visit, Catherine recruited several waitresses to ask after their restaurant supplier. Luckily, you can just order them on Amazon. She was thrilled."
Best Margarita in London: El Pastor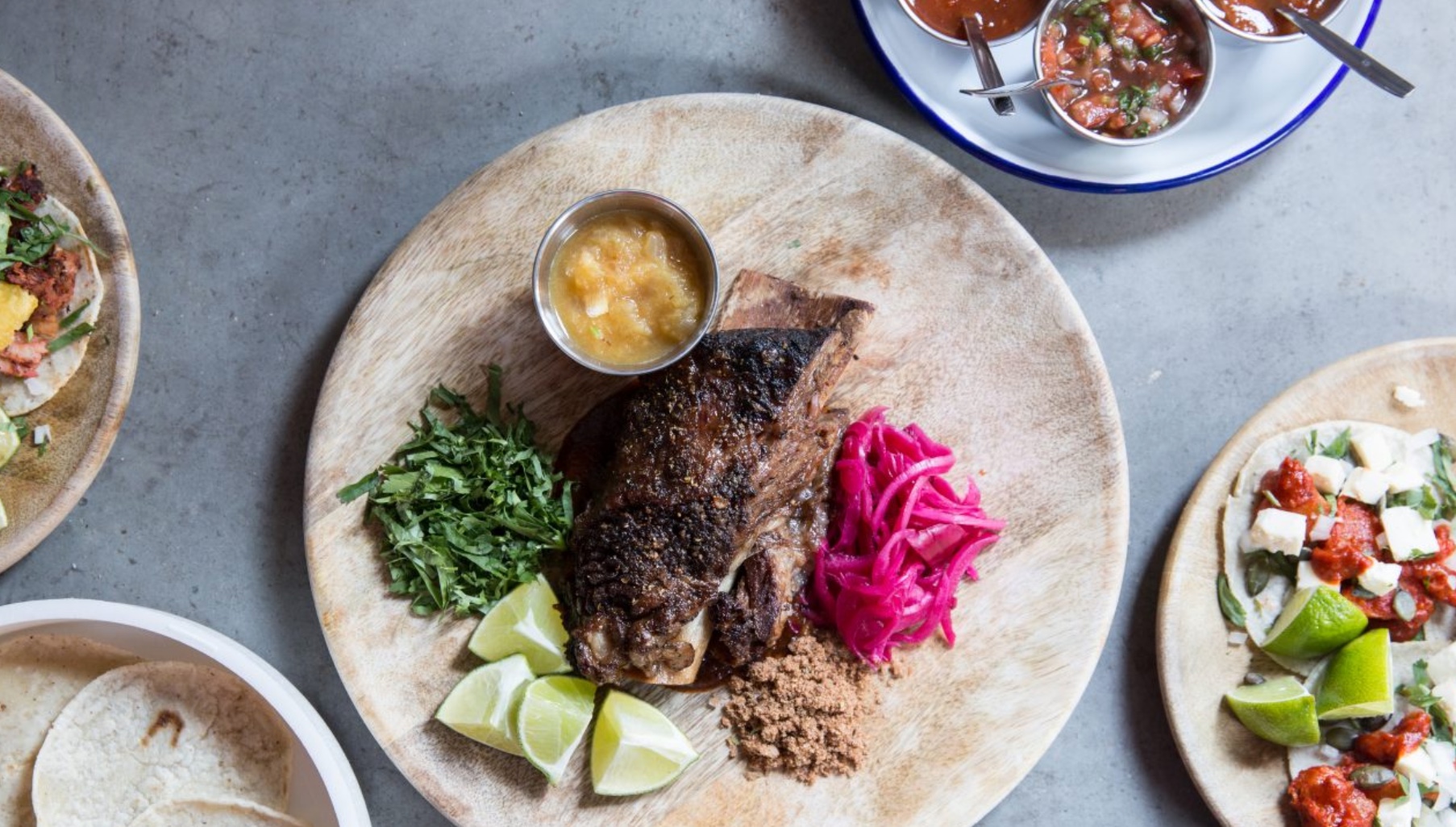 MARY: "My first few months in London were unfortunately spent in taco and margarita withdrawal. A bartender in Hoxton once had to repeat to my incredulous despair that he did not have any tequila behind the bar. Enter El Pastor on Stoney Street, tucked away next to Borough Market. The brainchild of the brothers behind Barrafina, El Pastor serves a la carte tacos and delicious margaritas that make up for London's lack of the *other* #summerwater. This is crucial – El Pastor opens for dinner at 6:00 and does not take reservations. You will need to be there no later than 6:02. Still thirsty or tequila not your favorite? Head a few doors down to The Wheatsheaf and enjoy a G&T with Littlebird, a local gin from Southeast London."
Image via El Pastor | @tacos_el_pastor
A Lovely Neighborhood Must: The Anglesea Arms 
MARY:  "The Anglesea Arms is a South Ken institution. This charming pub is housed in an eighteenth century building, complete with an antique wooden bar and creaky floorboards. The real pull is the pub's front beer garden, which is teeming with young professionals for after-work pints until close during the week and is a perfect spot for an al-fresco Sunday roast. Read: there are lots of cute boys here. The pub's instagram bio reads, 'Little pub on the corner of Selwood Terrace just asking you to love us.' Done."
Images via The Anglesea Arms | @theangleseaarms
Other Restaurants We Love
Scott's, Mayfair
The Botanist (for cocktails)
Bluebird Café
Dean Street Townhouse
Ottolenghi
Best Work Out Classes: Another Space 
MARY: "For those who cringe at the thought of interrupting your workout routine while traveling (can't say I've met many of you but I've heard you exist), head to Another Space in Covent Garden. With a packed schedule of HIIT, spin (or cycle as the Brits prefer), and yoga classes with everything you need provided, its perfect for drop-in classes when your hotel gym just doesn't cut it. Considering I cannot touch my toes and struggle to stifle a laugh at "namaste", this studio has somehow snuck its way into my routine with its friendly teachers and catchy class playlists. Head to their Yoga Unwind class, an hour long yin practice which will leave you just floaty enough to enjoy your flight home."
Image via Another Space | @another_spacelondon
MARY: "When you're after a little greenery but have already had your fair share of the Royal Parks, wander down to the Chelsea Physic Garden just off Chelsea Embankment. Founded in the seventeenth century as an Apothecaries' medicinal garden, the garden remains an important cultural site in the southwest. Visit for a guided walk or Christmas wreath-making class. Since I won't reveal my favorite riverside reading spots, this will have to do."
Image via Chelsea Physic Garden | @chelsea_physic_garden
Best Shopping, Art, and People-Watching Combo: Saatchi Gallery & Duke of York Square
Duke of York Square is home to lovely shopping, including Zara and Monica Vinader, as well as lovely al fresco restaurants. It is adjacent to the must-visit Saatchi Gallery, and on Sunday you can stroll through the weekly farmer's market.
CATHERINE: I absolutely adore London, and I've enjoyed visiting here since the summer of 2012. I came to London for my first visit five years ago traveling solo. My little sister, who was then planning her study abroad semester in the beautiful British capital, did some hotel research for me and brilliantly suggested The Kensington Hotel on Queens Gate in South Kensington. After that first stay, I've since stayed at the charming (and very chic) hotel another six-or-so times. It feels like a home away from home, complete with your very own living room, a beautiful bar with top notch cocktails, and very chic decor. I've stayed elsewhere, but always regretted it.
Photos via @CatherinePDV and The Kensington Hotel | @hotelkensington
Other Hotels We Love
The Connaught, Mayfair – old school British charm, on an iconic shopping street.
The Ned – visually commanding, lots of dining options, and West End karaoke on Sunday nights.
We both hope that this insider's guide to London has been inspiring for your own travel plans. Share your favorite London spots below in the comments, we'd love to hear your favorites, too!
XO, Catherine and Mary